Update 3:45 a.m.: The National Weather Service has issued a tornado warning for southern Palm Beach County through 4:15 a.m.
Affected communities include Boca Raton, Delray Beach and Boynton Beach.
NWS radar detected a band of powerful thunderstorms moving northwest at 30 mph.
Update 3 a.m.: Hurricane Irma, a Category 4 storm still packing 130 mph winds, inched closer to Key West, now just 65 miles southeast.
In addition, the National Hurricane Center showed that the National Ocean Service's station on Pulaski Shoals Light — near the Dry Tortugas — experienced a sustained wind of 62 mph and a gust to 76 mph.
Update 2 a.m.:  Hurricane Irma's top winds have increased to 130 mph, making it a Category 4 storm as it moves within 70 miles of Key West.
"On the forecast track, the center of Irma is expected to cross the Lower Florida Keys during the next several hours, and then move near or along the west coast of Florida this afternoon through Monday morning," a 2 a.m. National Hurricane Center advisory said.  "Irma should then move inland over the Florida panhandle and southwestern Georgia Monday afternoon."
The storm is still moving northwest at 6 mph, but is expected to pick up speed in coming hours, forecasters said. Despite earlier projections it might remain a Category 3 storm,  it has gained strength again as it nears Florida.
"Irma is forecast to restrengthen a little more while it moves through the Straits of Florida and remain a powerful hurricane as it approaches the Florida Keys and the west coast of Florida," the advisory said.
The storm's reach has widened, with tropical storm-force winds of 39 mph or more now extending 205 miles.
Update 1 a.m.:  Hurricane Irma is "slowly tracking toward the western Florida Keys," a National Hurricane Center update says, with top wind speeds of 120 mph.
The Category 3 storm is moving about 6 mph northwest, about 80 miles to the  southeast  of Key West. Sluggish progress  leaves the west coast and Panhandle of Florida wondering where it will make landfall, while southeast Florida sweats out thunderstorms and tornado threats.  A slower pace also means more time to dump a potential 10 trillion gallons of rain on the state.  Parts of Palm Beach County could see more than 10 inches of rain.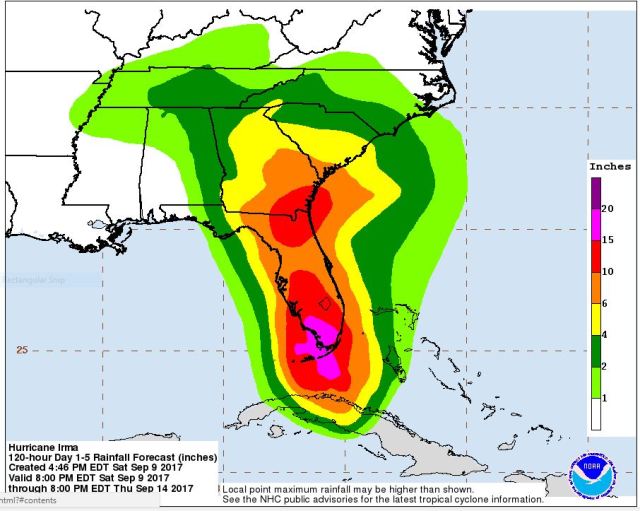 More than 200,000 people in southeast Florida have lost power, including more than 28,000 in Palm Beach County.
Hurricane Irma has advanced within 80 miles of Key West, producing gusts up 68 mph there, but a westward drift has removed Jupiter inlet and areas south of it from a storm surge warning.
The storm remain a Category 3 hurricane, moving slowly northwest at 6 mph with top winds of 120 mph in a midnight update from the National Hurricane Center.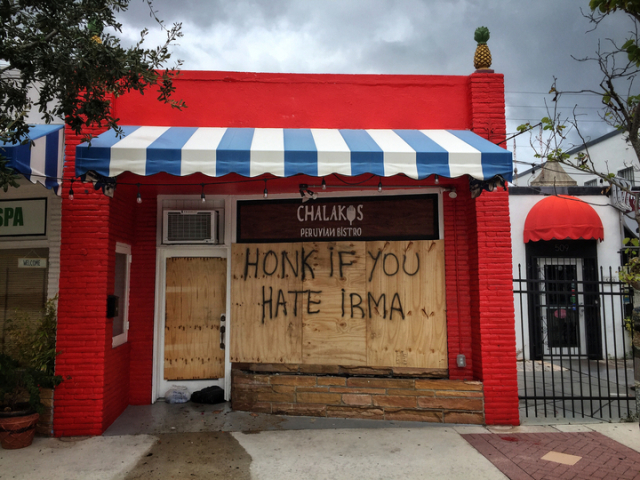 A wobble one way or the other in the next few hours has huge consequences for Florida's west coast and potentially the Panhandle, and  the storm's bands continue to send thunderstorms, high winds, rain and the threat of tornadoes to southeast Florida.
Advancing over warm open water opens the possibility Irma will strengthen, but the latest projections from the National Hurricane Center suggest it will remain a Category 3 storm in the next 24 hours. That makes it still a very dangerous storm, but the risks to Palm Beach County and the Treasure appear to be easing. West Palm Beach still has a 59 percent of  receiving tropical storm-force winds of 39 mph or more in the next 12 hours, but the risk of sustained hurricane winds, 74 mph or more, is down to about 1 percent.
---
View Comments

0
Article source: http://weatherplus.blog.palmbeachpost.com/2017/09/10/hurricane-irma-slows-drifts-west-jupiter-inlet-surge-warning-ended/