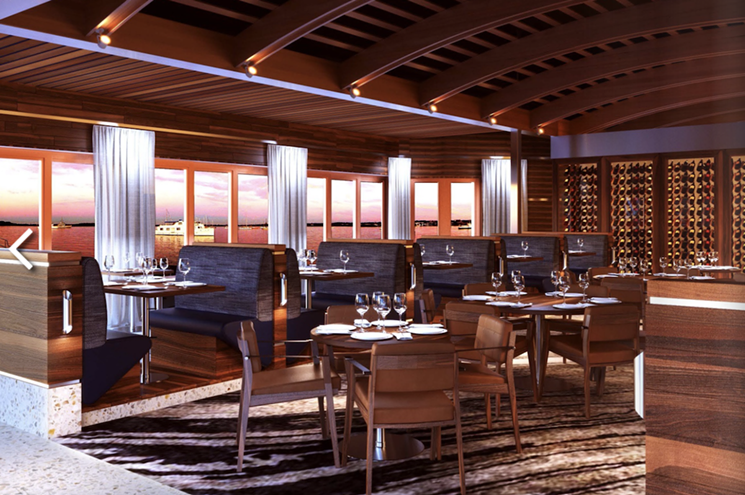 The idea of 1000 North is to offer an experience unlike any other in Palm Beach County, Fenton says.
"We wanted to give guests something they can't find in our area, an experience many people travel to Miami or New York to get. We're bringing that to Jupiter and topping it off with a beautiful waterfront view of the Jupiter Lighthouse."
In addition to Jordan, who's a Jupiter resident, other famous partners include golf legend Ernie Els and Terlato Wines CEO Bill Terlato. Morton Bouchard, Vincent Cerone, Russell and Lauren Fuchs, Raj Mantena, Stephen Mendell, Patrick Park, Marvin Shanken, Rick Stoddard, Richard Rifkin, and Charles and Kathryn Theofilos are also on the list of partners.
The building measures more than 8,000 square feet and will offer guests a chance to dine in a variety of settings, including the main restaurant and two areas known as the Tavern and the Terrace, each with its own menu.
Lee Morris, who has worked at restaurants such as BrickTop's and Palm Beach Grill, has been named executive chef. The menu he'll offer at 1000 North is considered modern American and will offer fare from various U.S. regions.
Although the menu has not yet been finalized, the restaurant will specialize in locally caught seafood and high-end steaks. There will also be an array of small plates like bourbon-and-hay-roasted oysters and steak tartare, two of the items Morris has been experimenting with in the test kitchen in recent weeks.
When it comes to the beverage program, the focal point will be wine, but also expect well-made cocktails and local and international beers.
If you like this story, consider signing up for our email newsletters.
SHOW ME HOW
Newsletters
SUCCESS!
You have successfully signed up for your selected newsletter(s) – please keep an eye on your mailbox, we're movin' in!
Although the main restaurant will be open to the public, the Club at 1000 North will be private and available by invitation only. Amenities include concierge services, priority reservations, dockside service, and access to a private lounge and patio. Those interested in joining can view the membership brochure online.
All guests arriving by boat may use the 350-foot dock, but only members will be allowed to access a separate area on the second level for dining and entertaining.
"While our partners have a lot going on in their lives, each one is still very passionate about 1000 North," Fenton says. "We want our guests' experiences to be truly memorable ones."
1000 North. 1000 N. U.S. Hwy. 1, Jupiter; 561-570-1000, 1000north.com.
Article source: http://www.miaminewtimes.com/restaurants/michael-jordan-and-ernie-els-opening-1000-north-9809535