JUPITER, FL – June 29, 2017 – There's no doubt that one of
Jupiter's most treasured natural assets is its marine environment, which
boasts a sui generis of natural beauty. Because of it, its local
community along with its many visitors from all around often find
themselves taking advantage of all the perks that these Caribbean blue
waters offer, including snorkeling, surfing, and swimming. Save for
rainy, tempestuous conditions you will see a tapestry of boats coursing
their way through the Inlet, around the Loxahatchee, or out in the
Intracoastal Waterway. Some of these boats will be equipped with fishing
gear and head on over to the Gulfstream, where marine life roams, and
passengers will be partaking in a fishing expedition. Other boats might
go offshore for scuba diving and those who dive in will indubitably get a
closer look at species constituting precious life under the sea.
Unfortunately, as these benefits attract more and more people, Jupiter's
natural resources such as ocean reefs can get overburdened and impacted
in a negative manner.
An organization that strives to tackle this very problem is Jupiter's
own Andrew "Red" Harris Foundation, an award-winning 501(c)(3) that
strives to enhance and preserve the marine environment in northern Palm
Beach County by building artificial reefs that consist of colossal
concrete-based modules to protect and expand marine habitats. The
organization was started in 2014 by Scott and Martha Harris, following
the tragic death of their son, Andrew. The foundation has become a
channel to protect the marine environment that Andrew cherished.
"Our reefs aren't getting any bigger but the population is growing by
the day. There's not enough habitat in our offshore reefs for all the
spawn of marine life species' to develop. By building these reefs and
creating these spawning habitats that promote life, we honor Andrew,"
affirms Martha. "This is his legacy."
The Andrew "Red" Harris Foundation teamed up with the Palm Beach County
Department of Environmental Resource Management (ERM), who oversaw the
creation of the reefs and paid for the deployment of the donated
materials, supporting the foundation's pursuit of enhancing the marine
environment
.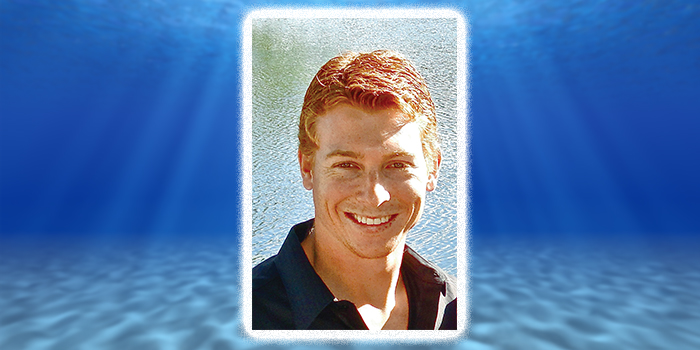 THE FIRST REEF
The foundation's first reef was created in August 2015. It consists of 40 seven-foot-tall, four-ton modules that were built as Bahamian coral head replicas, which were lowered one at a time by crane into the ocean at a depth of 40 feet, a mile and a half northeast from the Jupiter Inlet, near Jupiter Island and the Jupiter Lighthouse. Many of the modules contain a plaque with the names of those who donated to bring this project to fruition. Other plaques, including one weighing 1,400 lbs., bear the Foundation's name in commemoration of their initial grand scale effort. There is also  a plaque in remembrance of Andrew.
Scott notes that in mere months, the Foundation's aim became a reality as all types of marine life species' began making the reef their home. But that was merely the beginning—there was room for improvement, and room for growth.
"Ideally, what you want is to deploy the reef modules on thin sand (less than 12 inches of sand) before you get down to the hard bottom," points out Scott. "But that's hard to find in areas that are permitted for artificial reefs."
A year later, through the efforts of Scott, his wife, his family, the Foundation, Palm Beach County, the town of Jupiter, and companies, individuals, and foundations purveying charitable donations, a second reef emerged.
'NO SHOES' REEF
For their next project, Scott and the Foundation's team explored different possible sites within the grids where artificial reefs could be deployed. They would scuba dive around the Jupiter Shallow grid, which is 40 to 50 feet in depth, and surveyed the area extensively looking for the optimal thin sand location. Just outside the Jupiter Shallow grid and 2,000 feet southeast from the first reef, Scott then found an ideal thin sand site for building artificial reefs. The site is located on an actual reef that was smothered and utterly destroyed by sand decades ago, and the Foundation is, in a sense, rehabilitating the former natural reef. A donated professional sub-bottom survey identified that the new site is a 1,800-by-300-foot flat plateau of hard bottom covered by two to six inches of sand that is located on top of a ridge surrounded by deep sand. But when you are scuba diving around the bottom, all you see is an endless flat plain of sand.
"It was a huge boost for us to find this site; it is ideal for our modules because they won't sink into the sand," says Scott. "It was discovered by luck, pounding five-foot spears into the sand on the ocean bottom in 55 feet of water with a sledgehammer, and more importantly, by perseverance."
The site was initially outside of the permit area, but Palm Beach County worked closely with the Corps of Engineers for a year to expand the permit and have deployment approved on this specific site.
For the 2016 second reef, a new and improved "Coral Head" module design was developed with a blown cement approach that includes many tiers and small spaces for marine inhabitants to find safety and security. In addition to both these modules, the Foundation designed and built several styles of prototype concrete block models and deployed limestone-encrusted reef pyramids.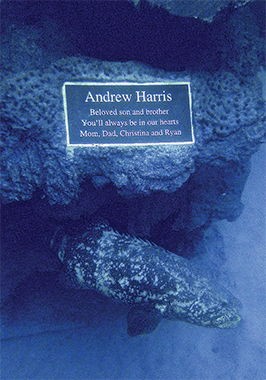 "Fish want protection; they want a safe habitat with a roof over their head where they can get out of the current, where they won't get eaten, and where the big fish won't find them. That's what drives our design," says Scott.
The first phase of the rehabilitation project took place in August of 2016 and it included the deployment of 100 modules: 50 limestone reef pyramids, 35 coral head replicas, and 15 unique concrete block prototypes. In addition to the modules, the county also put down 250 tons of limestone boulders. According to Scott, one day after the deployment, the current was interacting with the modules and rock pile and was already scouring away the thin layer of sand and exposing the underlying bedrock.
"That was exactly the effect we had hoped for," notes Scott. "We have high hopes that our modules will not only flourish with life, but will also bring the hard bottom between the modules back to life by scouring off the smothering sand."
Scott also adds that he's amazed by the variety of marine life that has found its way into these modules, from eels to porcupine fish—and all manner of local fish. In fact, Scott has compiled a survey of over 70 species he has photographed on the reefs.
"How did they get here, how did they find our reef? I have no idea, but it fascinates me: The mystery of the reef's growth," says Scott. "Additionally, Gulfstream-driven currents interact with the modules to scour away the smothering sand that prevents marine life from growing on the underlying rock. A few months later, the modules are covered with marine life and are teeming with fish as nature takes advantage of our work to rehabilitate itself. You put them down and nature helps these habitats grow organically."
Just before the 2016 deployment, the Andrew "Red" Harris Foundation received a significant donation from the No Shoes Reef Project, which is a partnership between Country Superstar Kenny Chesney and ENGEL Coolers. In recognition of their contribution, the Foundation gave them partial naming rights, and, thus, the 2016 reef creation is known as the Andrew "Red" Harris No Shoes Reef.
The second phase of the reef rehabilitation, which will take place in August 2017 is slated to have 134 modules and 500 tons of boulders placed on the site. Naming rights to a 170-ton boulder reef will be given to those who contribute $20,000 to the Foundation.
THE SNORKEL TRAIL
While their concurrent venture to build their offshore reef in Jupiter keeps the Foundation and the Harris family busy, they also wanted to contribute their reefs for inshore ecosystems. And they did. In November 2016, they donated 15 "lagoon-sized" (4.5-feet tall instead of seven feet) coral head replica modules for placement on the world-renowned Phil Foster Park Snorkeling Trail at the Blue Heron Bridge, located just inside the Palm Beach Inlet. Not only do the modules add more beauty to the trail, the reef also provides a layer of safety that it did not have before.
"The county was getting complaints about people getting lost or not knowing where to go while snorkeling the trail," says Scott. "So we agreed to provide some of our modules with embedded numbered plaques to help snorkelers navigate the trail, avoid the channel, and improve safety overall."
The reef structures serve as guideposts, but moreover, they allow snorkelers from all walks of life to see the Andrew "Red" Harris Foundation's work firsthand inside a lifeguarded Palm Beach County park. It will be interesting to see if, after a while, snorkelers on the Trail can tell whether these reefs are natural or artificial.
"I hope that some folks that are snorkeling down there can help us clean those plaques from time to time," says Scott with a chuckle.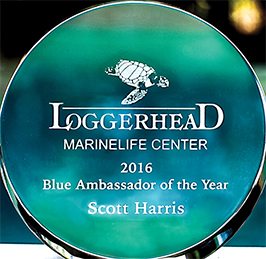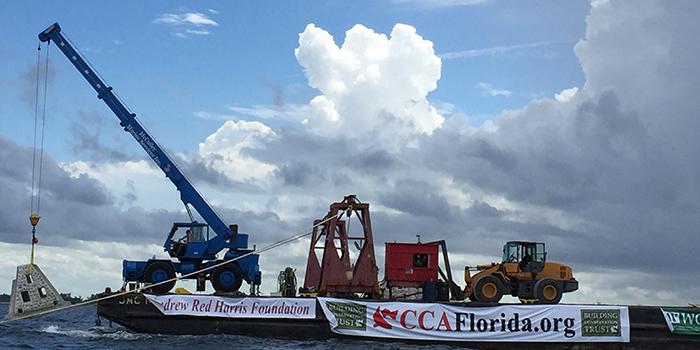 CREATING LIFE
The mystery of how plant life, fish, and other species help these artificial reefs grow and blend with nature is only surpassed by the miracle of creating life. That, in the end, is the entire purpose of the Foundation: "Building Artificial Reefs for Life."
"Our offshore reefs create life where there otherwise would be nothing but vast sand plains stretching out for miles," says Scott. "We work hard to make these structures robust enough to withstand rough underwater conditions."
The Foundation's hard work does not go unrecognized. Recently, Scott received the Loggerhead Marinelife Center's 2016 Blue Ambassador of the Year award. The Blue Ambassador of the Year Award honors
a person who has made significant contributions in ocean conservation in greater South Florida through volunteer-related activities.
"It was an honor to receive the award," says Scott. "But I think our great volunteers and all the people who have gone out of their way to help fund our work building our reefs, as well as those who contribute their expertise and help drive attention to the Andrew 'Red' Harris Foundation, deserve a lot of credit too."
Contributing to the Jupiter community is a core value of the Harris family and the Foundation. Through volunteer efforts and charitable donations, the Foundation can maintain it's focus on the goal of enhancing Jupiter's marine environment and becoming an enduring conduit for funding and building artificial reefs in the Jupiter area and northern Palm Beach County. Scott adds that when forming the organization he "wanted the reefs to contribute to Jupiter as Andrew's life would have."
For more information on how to make a charitable donation to the Andrew "Red" Harris Foundation, please visit www.andrewredharrisfoundation.org.
Article source: http://www.injupiter.com/jupiter-florida-stories/building-artificial-reefs-for-life-/125